Either I have lowered my standards or it was simply a more satisfying year. Largely I think that's because I was willing to work harder to dig out the things I really wanted to see. Whether it was at the movies or streaming on Amazon, Fandor, Filmstruck or Netflix, here were my high points.
Raul Ruiz's Mysteries of Lisbon
Ruiz's film is a display of filmmaking "class" with every shot meticulously framed and every movement of the camera elegant and graceful. The previous film (or two) of Ruiz's left me completely unprepared for the force and effect of this extraordinary achievement. It might have been shot on digital but it leaves no doubt that a certain sort of classicism in filmmaking (beautiful acting, immaculate set design, repetitive, symphonic score) when done in the highest manner can reach the soul every bit (if not more) than any of the more contemporary techniques.
Todd Haynes' Carol
Haynes' latest, very mature and sophisticated, is more European in its textures and shape than American indy or mainstream. It felt even more mysterious than its closest Haynes' counterpart Far from Heaven
and is poetic and delicate in ways I have never experienced in his other work. A great surprise and another chapter in the brilliant careers of both Blanchett and Burwell.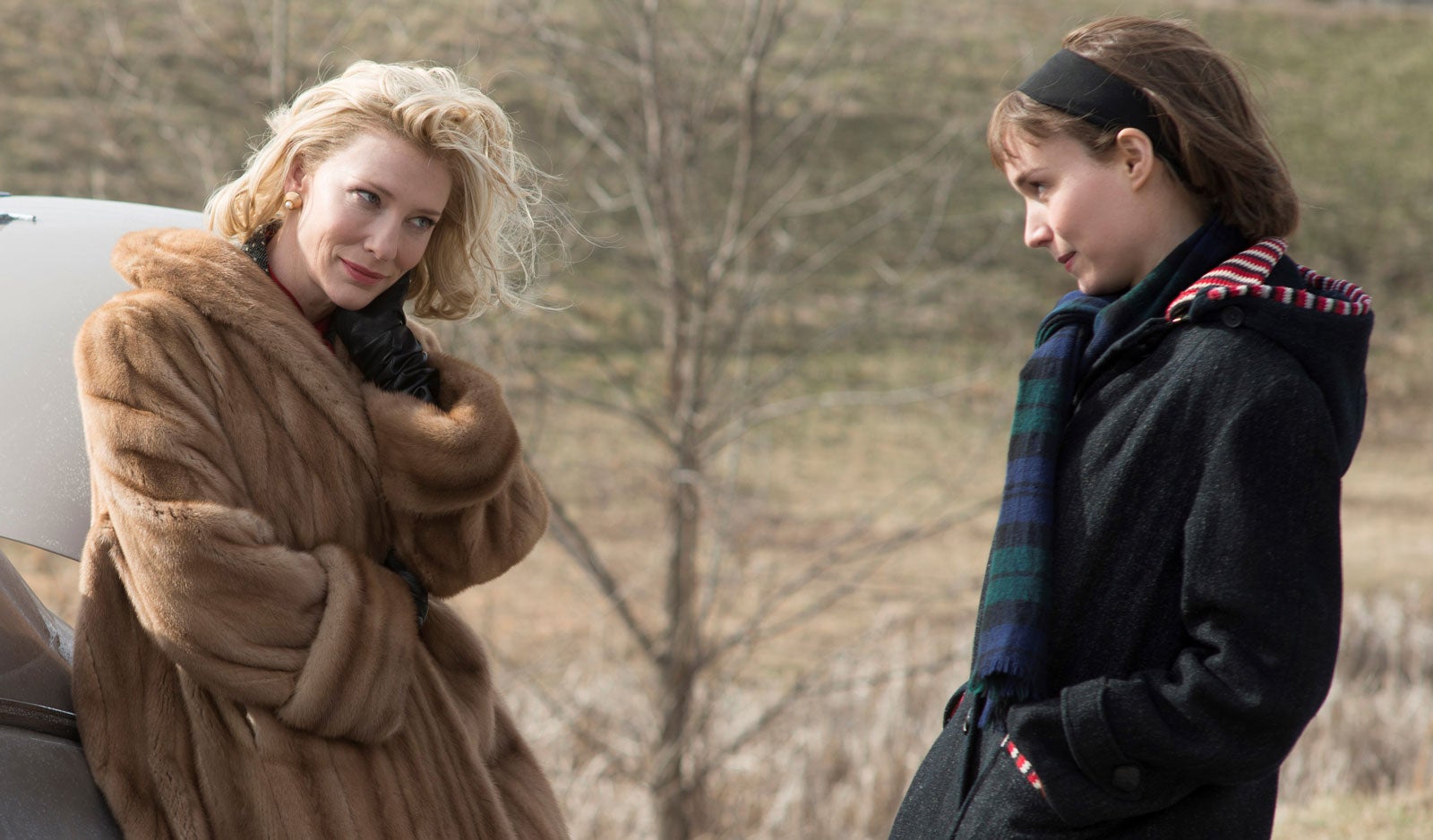 Celine Sciamma's Tomboy
A very strong addition to the kid in peril genre that includes 400 Blows, Kes and Germany, Year Zero.
This one is incredibly unsettling, particularly for the way it takes the audience's experience with past movies and uses those memories of what could possibly happen to create an almost relentless tension. The end credits mention Ferran and Lvovsky, which come of no surprise as influences and to help locate the cinematic world in which Sciamma is so effectively treading.
Hong Sang-soo's Right Now, Wrong Then
Hong's latest outing once again treads familiar territory - a doppelganger narrative, a filmmaker as main character and plenty of scenes of eating and drinking. This installment especially benefits from Hong's ability to capture so many of those awkward but charged emotions we have all experienced during the early stages of courting. And the way the second narrative remixes the events that have come before has Hong working at the absolute height of his skill.
Damien Chazelle's La La Land
I was a big fan of
Whiplash
and interested in seeing this, Chazelle's next film. After
Whiplash
, I sensed and hoped that Chazelle might be the type of filmmaker I have been waiting for, a sophisticated cinephile with enough mainstream appeal to succeed in imposing and protecting his cinema within Hollywood. I was excited when I first discovered David Gordon Greeen, Andrew Bujalski, even Bennett Miller. But, in truth, Gordon Green and Bujalski never seemed to have the sensibility to fully crossover. They might get their chance to work within the system but it would be in the way the system wanted them to work and not the other way around. Miller, in a similar way to Kenneth Lonergan, will probably succeed in continuing to make smart cinema in Hollywood, but it will almost certainly be a cinema devoid of style and without any internal dialogue or link back to film's history. Meanwhile
La La Land
is truly bold cinema, a young auteur's willingness to go all in, cash in on his sophomore effort fully knowing that it really does not matter how daring he is because if he makes a film that connects he will be given additional chances. If not, he will be back to making small-scale indy work as he grovels for Hollywood to give him another shot. Chazelle gambles and emerges, in my eyes, as the most gifted new American filmmaker since the exciting new voices of the nineties, like James Gray and Tarantino, I made a similar, now obviously irresponsible claim in '99 when O'Russell, Payne and The Wachowski Brothers all had breakout years. But I have more trust this time around. After all, one of Chazelle's main subjects of
La La Land
is how to preserve something that is under great threat of fading away.
Kenneth Lonergan's Margaret
Genre. Novelistic. Ambition. Massive. Pressure. Huge, after the breakout success of
You Can Count On Me
. I have long been a fan of Paquin and here Lonergan gives her the space to show off deep layers of her talent. The sprawling film is difficult and flawed but also infinitely more rewarding than most of the work currently coming out of the States. It feels most akin to a French art film, something Desplechin or Assayas would attempt, and full of extraordinary moments bubbling with feelings and ideas.
Satyajit Ray's The World of Apu
Ray takes a few years away from his trilogy before coming back and completing it with this film, and the style feels a little different than the first two movies. This film has a slightly more elliptical quality and seems intent on drifting closer to poetry. The ending of the film is one of the very strongest moments of the entire trilogy with Ray attaining that transcendent experience of the great neorealist works.
Nanni Moretti's Mia Madre
It has been years since I have seen a new Moretti film, the last being 2001's
The Son's Room
. But his work such as
Palombella rossa
and
Caro diario
both rate among my favorite films of the eighties and nineties. Moretti is in top form with his latest outing creating something that is fairly small-scaled and intimate. It is a work that seems to aspire and succeeds in being something that is appealing to look at and listen to, that will make you both think and feel deeply.
Jean-Pierre Melville's Le deuxieme souffle
Definitely one of these blueprint films that presented (and perhaps even introduced) so much of what would become conventions for the ambitious crime films of the next thirty years. It takes its time, coming in a little over 150 minutes, and relies heavily on ambient sounds, featuring very little in the way of music. Where there is music it is that moody minimal jazz that we will find again in Friedkin's French Connection, Klute and Night Moves, to name but a few. We see the two-gun shootout that would become trademarks of Woo and Tarantino. We have the zoom and heavy reliance on location shooting that almost sum up the aesthetic approach of Friedkin in the Fren
ch Connection
. And we have onscreen
time stamping that shows up all over Scorsese's work and in seemingly every copycat crime filmmaker that would follow in its wake.
Samuel Fuller's Underworld U.S.A.
Fuller's strengths - his constantly roving, expressive camera and his hard-hitting sensibility are at the fore while his weaknesses, such as a heavy hand creating believable romance and intimacy are hardly, if at all, noticeable. Clearly an influence on later great works such as
Carlito's Way
and an argument as good as any that the noir cycle did not end with
Touch of Evil
in 1958 but was still going strong well into the sixties with important and powerful entries such as this.
Jacques Rivette's Le Pont du Nord
One of the real pleasures of being a cinephile is discovering a new link to a film that you already love. In this case it's Carax's
Boy Meets Girl
and really to Carax's cinema in general. Rivette's influence seems to be all over. It's in the way that Carax uses the little seen areas of Paris, the way that he fixates on maps of the city, and in the countless quirky mannerisms of Lavant that run throughout Carax's body of work. Also, of note is this strange relationship with genre that Rivette seems to have (and I guess Godard did as well, think
Pierrot le Fou
or
Vivre sa Vie
). It's like they don't want to make pure art films but instead prefer adding these trivial crime subtexts to the real meat of their stories producing a formula that ends up being something like - - serious characterization + ironic treatment of genre = playful, thoughtful art. What is interesting is how some of the New Wave filmmakers get at the poetry of the genre by having fun with it in ways that the original practitioners of the genre never achieved. I am thinking particularly of where Truffaut ends up in
Shoot the Piano Player
, Belmondo's final moments in
Pierrot
and the remarkable last few minutes Rivette gives us between Pascale Ogier and Jean-Francois Stevenin. And I've gotten all the way here and only begun to mention Pascale Ogier, the most interesting and most tragic early loss in all of French cinema, who in but a handful of films offered up everything that James Dean and River Phoenix did only to disappear all too soon.
Arnaud Desplechin's My Sex Life... or How I Got into an Argument
Desplechin's second feature comes with a certain looseness that could belie a unique cinematic intelligence and a nearly unprecedented capturing of uninhibited femaleness. It feels more akin to a novel in its shape and courage to let time unfold within its own disheveled set of rules. "Tenderness is the fear of adulthood", Desplechin quotes Kundera, and this film might be as spot-on as any in the medium's history for capturing that very strange road from freedom to responsibility.
Jean-Luc Godard's Sauve qui peut (la vie)
Godard returns after a twelve or so year departure from "traditional" narrative cinema with this absolute scorcher of a film. I was surprised (although I do not know why since Godard remains perhaps my favorite of all) by its beauty, its playfulness, its ability yet again to tap into the zeitgeist of its time. It is Godard as post-punk and it is up there with his extraordinary work from the sixties. If anyone thinks Godard's importance ended with Week End
, have a look.
Miguel Gomes' Tabu
Clearly I am late to the party but there seems to be something very special right now happening in Portuguese cinema. I already recently got on the bandwagon for Manoel de Oliveira and now I am starting to see what this Gomes guy is all about. If
Tabu
is any indication, he might be one of the most gifted and bold filmmakers at work right now in the world. Visually it is absolutely rapturous cinema, using modern black-and-white like the killer poetic weapon it can be when in the right hands (think Wenders' work with Muller or
Dead Man
, again Muller). And Gomes' style, in addition to his visual approach, is as free-wheeling and exciting as Godard can be in his most effective moments. Gomes jumps all around chronologically, mixes silent cinema with voiceover and uses music and nature as well as the great Swiss one. I can't wait to see more of Gomes' work. He's exactly the type of filmmaker, in its current isolationist cinema culture, Americans are losing out on by not having more readily available.
David Simon and William F. Zorzi's
Show Me a Hero
My most memorable viewing experience last year was seeing the entirety of The Wire for the first time. I was astounded by Simon's ability to simultaneously juggle so many rich characters and the way he so gracefully glided around the different corners of the carefully detailed and observed world he had created. Simon moves the focus from Baltimore to Yonkers but the result is similar, another microscopic study of a section of our community and a work that not only lodges itself deeply into our personal and moral fabric, but shifts us.
David Lynch's Twin Peaks (TV show)
As a long time fan of Lynch I figured it was about time I sit down and watch the entirety of the two seasons of Twin Peaks. I also wanted to make sure I was caught up when the new batch premieres in 2017. Although not every moment is fully captivating, the show rises above any other I have seen in its casting, its fearlessness and the primal power of its greatest scenes. Nothing topped the final episode for me but other unforgettable moments include Leland Palmer and Madeleine's final scene, Coop's Tibetan Method, and any scene that bears the threat of Leo coming home.
Jeffrey Dupre and Maro Chermayeff''s Soundbreaking